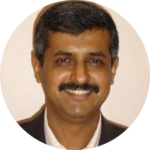 Madhav Punde
__________
Life & Executive Coach
"I am not what happened to me, I am what I choose to Become"
– Carl Jung
About Life & Executive Coaching
I am sure, you must have glanced into a mirror before you got out for work, a job or any other activity. Why do you do that? It is essential to know if you look presentable for the meeting you are attending. The mirror reflects your image and you see yourself and change your appearance if necessary.
When was the last time you peeped into a mirror for your internal world of thoughts, beliefs and emotions?  As a coach, I am the mirror who will reflect your internal world to you without any distortions or judgments. This will enable you to introspect and make the necessary changes for your happiness and purpose. I hope to help you understand yourself better and provide you with tools to effectively reflect on your thought process. I will work with you to help you achieve your potential.
About Me
I am an ICF certified Coach with a passion to assist people gain clarity in their thinking and thereby lead to laser focussed action. What is coaching? International Coaching Federation defines coaching as "partnering with a client in a thought-provoking and creative process that inspires them to maximize their personal and professional potential. "
Health is the greatest gift, contentment the greatest wealth, faithfulness the best relationship." – Buddha
"Until you make the unconscious, conscious, it will direct your life and you will call it fate."
– Carl Jung
"Rather than being thoughts and emotions be the awareness behind them."
– Echkart Tolle
"If you worry about what might be,
and wonder what might have been, you will ignore what is."
– Unknown
" I wanted to thank you for the coaching session we had in the end of November. That session helped to get clarity around my thoughts and understanding my aspirations clearly. It helped me come out of the confusion I had created around what I am doing and what I want to do. The coaching session gave me a much needed opportunity to talk loudly my confusions, so that I can hear them and solve them."
– Pratiksha  (IT professional)
" Coaching session was really interactive and I was able to express my feelings and uncertainties of my path to you. Your questions helped me discover my strengths and self confidence."
– Yash (Postgraduate student in Engineering)
" The session was very good in the sense that I felt as heard and during the course of the session, I discovered what needs to be done as well as when and how.The objectives set out at the beginning of the session (how to improve my memory) were met as I could see the way forward by the end of the session. Yes, it inspired me to swing into action and practise what I discovered during the session."
– Srinivasulu (Senior management professional)
This was the photo of Konark sun Temple Odisha which I took in my recent visit there. I had joined a group tour to visit Puri, Bhubaneshwar and Konark Sun Temple. Konark temple was built in 12th Century AD . It is a classic representation of...